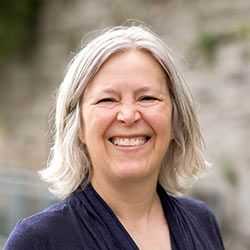 Kiri Namtvedt
This year will mark 23 years that Kiri Namtvedt has worked for Department 56 and during that time she has sculpted building for every Village line as well as designed figurines and accessories.
Prior to coming to Department 56 Kiri sculpted prototypes for the toy industry.  She joined our sculpting department in 1999 as an in-house sculptor.
Kiri loves her work and finds that designs based on existing or historical buildings a challenge because the desire to get the intricate details is greater and there is more to compare to. "All the bricks, the colors and fine details must be accurate and make the piece look like the original." Much of the sculpting she does is in wax, using a hard jewelers' wax that is easy to work with. Wax is used because it can achieve a lot of detail and the models transport to our factories overseas without much risk of breakage.
As a member of the Minnesota Society of Sculptors Kiri participated in several juried shows both in Minnesota and in New York City. While sculpting is her first love, she also enjoys painting with acrylics and photography.
When she's not at work Kiri and her husband enjoy hiking, rock climbing and travelling. Kiri spends a lot of time out of doors with Cooper, a Bouvier des Flandres.
Department 56 the leader and gold standard in lighted collectible Villages, is part of the Enesco family of brands and is based in Eden Prairie, Minnesota.