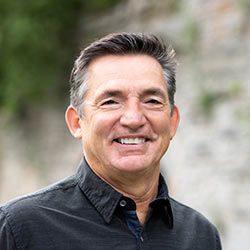 Scott Enter
Scott Enter has designed hundreds of Village lit buildings, accessories, and general animated pieces since he started working at Department 56 in 1990. Originally hired as a photographer for brochure and catalog work, Scott's first Village design project was The Original Snow Village "Green House" (56.54020, 1991-1995), This piece was planned as an accessory, but Scott, who loves to tinker with technology, figured out how to make it light. Scott can be credited with upgrading numerous additions to The Original Snow Village, Snow Village Halloween and other Villages over the years. "Collectors are always asking us to add more sound and animation to their Villages, which prompts me to keep thinking creatively on how to make the Villages come alive."
One of Scott's more popular sub-series is the Original Snow Village "Christmas Lane", a group of overdecorated homes that started with "The Noel House" in 2003. Inspired by his love of the holidays and decorating his own house for Christmas, Scott enjoys thinking up new designs for this series. The "Oh Holy Night House" for 2022 marks the 20th piece in the collection and makes a grand statement on its own.
With the introduction of Snow Village Halloween in 1998 Scott can now design Village pieces for the family friendly and the dark and spooky displays. He never seems to run out of ideas and has even added several popular sub-series within this Village – "Trick-Or-Treat Lane" and "Witch's Hollow."
Because all Village pieces start with ideas, the many brainstorming sessions for concept and design plans held at Department 56 has proven to be Scott's favorite part of the production process. "These meetings get the creative juices flowing and we are all anxious to get to work."
Department 56 the leader and gold standard in lighted collectible Villages, is part of the Enesco family of brands and is based in Eden Prairie, Minnesota.