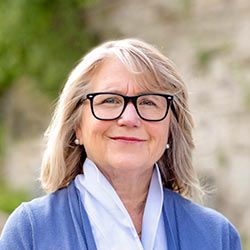 Kristi Jensen Pierro
For over 33 years Department 56® artist, Kristi Jensen Pierro has captured the beauty and splendor of winter in her Snowbabies™' designs. Her personal experiences are artfully designed into each Snowbabies' piece and carefully named to ensure a sentiment of love, friendship or inspiration. "Each piece I design tells its own story. It's the story that makes each Snowbabies' figurine special and unique."
"I love to talk to collectors at the many open house events I attend each year. My work reflects my own experiences with my children and my own childhood, but the evolution of many of my designs comes from the inspiration of thousands of enthusiasts and collectors everywhere. You tell me what you like, and what you don't. And I listen."
Her new sub-series, "Peaceful Kingdom" features a herd of animals both big and small that are special to the Snowbabies, and celebrate the bond shared between baby and animal. Kristi hopes that your favorite animal is part of this delightful series. She is fond of two in particular, "The Peaceful King" (the lion) as well as "And A Child Will Lead" (a lamb).
Over the years Kristi has designed many other Department 56 giftware collections including the very popular Snowpinions™. These sweet and sometimes sassy sentiments relay just the right message for many holiday occasions and can be purchased through many retailers and on the Department 56 website. This giftware line includes porcelain figurines, ornaments, plush, and glassware.
Department 56, the leader in lighted collectible Villages and Snowbabies, is part of the Enesco family of brands and is located in Eden Prairie, Minnesota.